Join the RISE Consortium at the Defense TechConnect Innovation Summit and Expo on November 28-30, 2023 at the Gaylord National Hotel & Convention Center outside of Washington, DC!
RISE Consortium Executive Director, Michael Wu, is hosting a session with senior climate advisors from the Department of Defense, RISE Consortium: Catalyzing Climate Resilience with the Department of Defense Community, on Wednesday, November 29, 2023.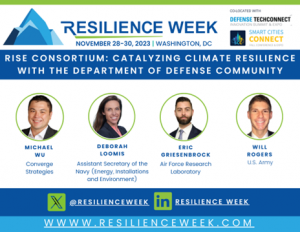 This special RISE session is part of Resilience Week 2023. Resilience Week, hosted by Idaho National Laboratory, is your opportunity to connect with government partners across critical infrastructure sectors to ensure a secure and resilient flow of energy across the nation. This year's focus areas include:
Commercializing R&D for Resilience
The Critical Infrastructure Threat Landscape
Understanding Critical Infrastructure Interdependencies
Energy Equity and Community Resilience
Building Critical Infrastructure Resilience Through DERs
Cyber Resilience for Operational Technology
Come visit the RISE Team at Booth 609 during Expo hours!